The Definitive Rupert Neve Channel Strip Rupert Neve Designs' Shelford Channel, over a half century in the making, is the definitive evolution of Mr. Neve's.
OVERVIEW
A Whole New Vintage – Over fifty years in the making, the Shelford Channel is the definitive evolution of the original technologies in Rupert's classic console modules like the 1073, 1064, 1081 & 2254, thoughtfully advanced and refined for the 21st century studio. The Shelford Channel is built around Rupert Neve's first new transformer-gain, class-A microphone preamplifier in over 40 years, the "best-of-the-classics" inductor EQ section from the Shelford 5052, a tone-packed Diode bridge compressor, the analog power of variable Silk saturation, a new dual-tap transformer output stage for maintaining headroom or allowing the full driving of the Channel without clipping standard converters, and twice the operating voltage of vintage designs.
With richly-colored tonal options for making bold statements with your music, and precisely-engineered detented controls for recall, the vintage-inspired Shelford Channel maintains the soul of Rupert's classic designs with new levels of versatility, delivering what can only be described as the combined essence of fifty years of Rupert Neve's designs.
Input stage and transformer-gain mic pre
Rupert Neve's first new Class A, transformer-gain mic preamplifier in over 40 years makes its debut in the Shelford Channel. Rupert has spec'd this preamp with a direct-coupled transformer input; gain is provided by the custom transformer itself. The proprietary input transformer, and its meticulous integration with the surrounding Class A input amplifiers, plays an outsized role in the Channel's immediately recognizable sonics: punchy and creamy-smooth, with excellent isolation and vanishingly low noise.
The Shelford Channel's front-panel hi-Z instrument input uses the same discrete Class A field-effect transistor with transformer topology as Rupert Neve Designs' acclaimed RNDI; for gain, however, it utilizes the new RN4012 input transformer directly into the mic preamp. This design provides astonishing clarity on hi-Z sources, with substantial low-end weight and silky-smooth high frequencies. The DI also gives you a passive thru output to feed a guitar or bass amp.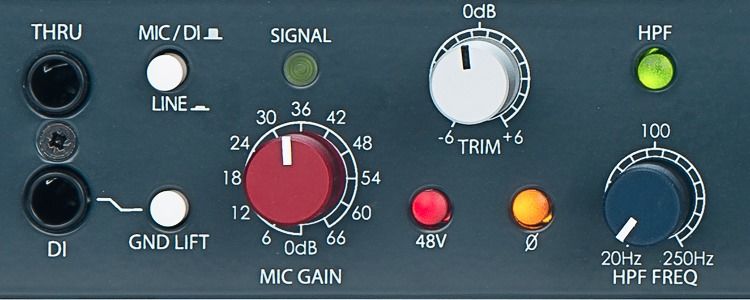 Mic-DI/Line: switches between microphone/direct injection input and line input
GND Lift: disconnects the audio signal ground from chassis earth
Signal LED: green indicates Signal Present; red indicates imminent input stage clipping
Mic Gain: 12-way precision rotary, controls gain from 0dB to 66dB in 6dB steps
Trim: rotary switch provides further continuous gain adjustment of +/-6dB
48V: switch engages phantom power on the mic input
Phase: inverts the polarity of the signal path (illuminates when engaged)
HPF Freq: engages a 12dB/octave highpass filter, variable from 20Hz-250Hz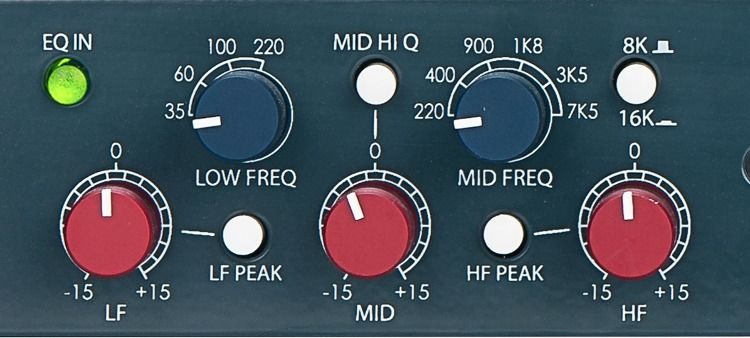 The best-of-the-classics inductor EQ
The Shelford Channel's EQ section is a 3-band, custom-tapped inductor circuit containing Rupert's favorite bands from his vintage equalizer designs. The low-frequency band is primarily based on the 1064 — acclaimed for its creamy, resonant bass. Unlike the 1064, though, the Channel gives you added dimension, punch, and control over your low end by letting you use the LF band as either a peaking or a shelving filter. The midrange band is based on the venerable 1073 and is perfect for sweetening instruments and vocals while nudging them forward in a mix. "Proportional Q" response also makes it ideal for attenuating problem frequencies. The high-frequency band is a hybrid design with the best of vintage and modern attributes. It should be noted that this EQ is in no way a clone; it's a decidedly modern design using components and techniques that simply did not exist in the 1970s — for instance, the use of capacitor-based topologies to achieve sonic richness and enhanced control.
EQ In: engages all EQ frequency bands except HPF
LF: adjusts up to 15dB of boost/cut at the selected low frequency
Low Freq: 4-position rotary switch for selecting LF band corner or center frequency
LF Peak: selects LF shelving (out) or peaking (in) mode
Mid Hi Q: selects between a mid-band resonance of 2 (out) or 3.5 (in)
Mid: adjusts up to 15dB of boost/cut at selected mid frequency
Mid Freq: 6-position rotary switch selects center frequency of the midband EQ stage
HF Peak: selects HF shelving (out) or peaking (in) mode
8K/16K: selects between an 8kHz (out) or 16kHz (in) center or corner frequency for HF band
HF: adjusts up to 15dB of boost or cut at selected high frequency
The Super Diode-bridge Compressor
Like the Shelford Channel's inductor EQ and transformer-gain microphone preamp, the diode-bridge compressor/limiter is based on the topologies found in vintage Neve designs such as the 2254. It improves, however, on the early designs by the inclusion of full-wave rectification and a bevy of new control features. Although Rupert's vintage diode-bridge compressors were prized for their warm, punchy response, they were somewhat compromised by imprecise controls, attack-time inflexibility, low headroom, and high noise. The Shelford Channel's Super Diode-bridge Compressor delivers the attitude-packed, "in your face" sound of those classics, but with modern precision and flexibility — which makes it ideal on any source. Full Side-chain and stereo Link features are provided.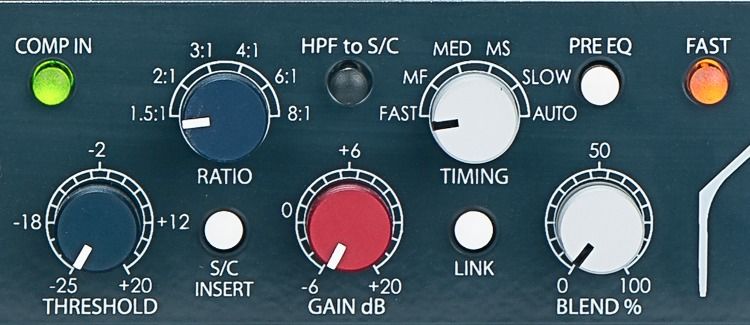 Side Chain Insert Jacks (rear-panel): for fine tuning of compressor operation
Comp In: engages the Channel's compressor-limiter section
Threshold: sets level where the compressor "kicks in"
Ratio: sets compression slope from 1.5:1 (minimal) to 8:1 (heavy)
SC Insert: inserts rear-panel sidechain insert jacks into sidechain signal path
HPF to S/C: routes highpass filter into the circuit that compressor uses to determine level
Gain: for adding make-up gain to compensate for level attenuation lost to compression
Timing: 6-position rotary adjusts attack/release speed of the compressor
Link: links the sidechain control of multiple units for ganged or stereo operation
Pre EQ: changes the order of compressor in the circuit chain
Blend: mixes the dry and compressed signal for handy parallel compression
Fast: speeds up both attack and release of the selected compressor time constant

Dual-tap transformer output
The Shelford Channel's output stage serves up the inimitable sound of Rupert Neve's classic designs while providing far more tonal versatility. The dual-tap output for the RN2042 square-core output transformer provides both high- and low-headroom outputs without compromising performance. The high-headroom tap takes advantage of the Shelford's higher-voltage design, delivering a pristine sound without non-linear output-stage coloration at high levels. The low-headroom tap, on the other hand, lets you drive the full voltage range of the Channel to accentuate this non-linear harmonic content — without clipping most pro interfaces. For vocals, drums, guitars, bass, and other instruments, this output lets you hit the transformer's sweet spot, which can inject life into a recorded performance in a way that other effects cannot.
The Silk and Texture controls
The Shelford Channel is packing a secret weapon the classics never had: its output transformer features the Silk Red/Blue and Texture controls from the Portico II Series that let you tailor the harmonic content and tonality of the output stage. By engaging these controls and sufficiently driving your output, you can dial in delectable 2nd- and 3rd-order harmonic distortion (that's the good kind) and saturation of the output transformer, imbuing your tracks with juicy rich thickness (think: 1073 on steroids) — with no danger of overloading the output stage. The Silk Red mode emphasizes harmonic content generated by the source's high frequencies; Blue mode, conversely, works off the low frequencies. The Texture knob controls the amount of added harmonic content. Disengage Silk, and your output is pristine and modern, while retaining Rupert's bigger-than-life transformer sonic signature.
The magical sound of Neve
Rupert Neve is an audio legend whose electronics designs defined the golden age of analog. Those of us at Sweetwater who have had the privilege of working on a Neve 8078 or its predecessors can attest to the fact that Neve's Series 80 consoles were indeed the pinnacle of hand-wired analog mixing desks. Mr. Neve has remained at the forefront of audio-circuit innovation for over half a century, and his current company, Rupert Neve Designs, continues to advance the state of the art with cutting-edge products that sound incredible and intelligently address the challenges of the digital age.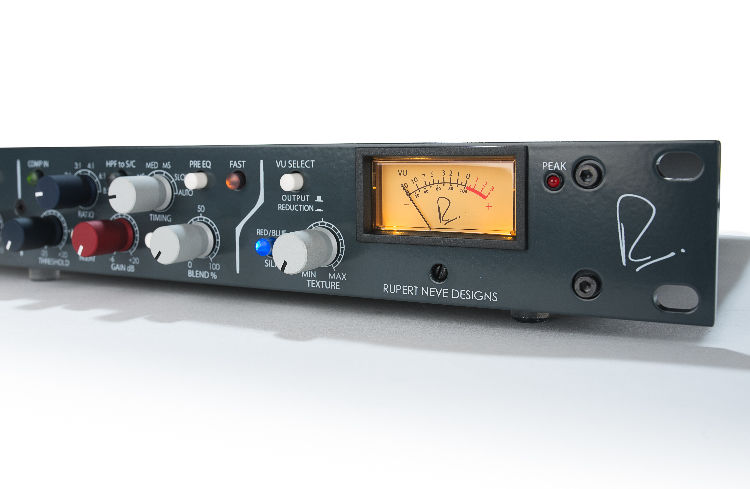 Rupert Neve Designs Shelford Channel Features:
The definitive evolution of Rupert Neve's renowned 80 Series channel module technology
A complete channel strip that delivers the essence of classic designs, along with modern versatility
Input stage and transformer-gain mic pre
Front-panel hi-Z direct input
Best-of-the-classics inductor EQ
Super Diode-bridge Compressor
Dual-tap transformer output
Silk and Texture controls
Tech Specs
| | |
| --- | --- |
| Preamp Type | Solid State |
| Number of Channels | 1 |
| Phantom Power | Yes |
| EQ | 3-band, custom-tapped inductor EQ |
| Compressor | Diode bridge compressor (side chain, stereo linking) |
| Analog Inputs | 2 x XLR (line in, mic in), 1 x 1/4" (Hi-z in) |
| Analog Outputs | 2 x XLR (line out, -6dB out), 1 x 1/4" (thru) |
| Rack Spaces | 1U |
| Manufacturer Part Number | Shelford Channel |