Novation Circuit Groovebox with Sample Import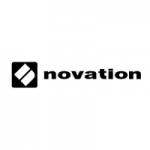 Số lượng hạn chế
Vận chuyển hôm nay nếu đặt hàng trong 9 giờ và 21 phút!
Once you start making music with the Novation Circuit synthesizer workstation, it's sure to become a fixture in your rig.
Start something
Whether you're a producer, a musician or you just want a quick and easy way to play, Circuit will do something for you. It's a starting point for your music-making; jam with Circuit's synths and samples, sync or sequence other devices, or unplug everything and start something anywhere.
"Novation hit it out of the park. Circuit is fun, affordable, intuitive and it keeps getting better."
- Audio Newsroom
Make beats
Use two six-voice polyphonic Nova-heritage digital synths and four drums - with independent pitch, decay, distortion and filter controls - to build a beat. Flip in your own samples for complex and changing rhythms on the fly. Make your beats move with micro-steps, mixed up pattern lengths per part, and swing. Then hook up to your other MIDI devices and have everything play along.
Make Tracks
You have four parts. Synth 1 and Synth 2 are a part each and Drums 1 & 2 and Drums 3 & 4 make up the other two. You can create eight Patterns per part, per Session, and mix, match and chain in any way you can imagine for endless, complex and evolving tracks. Then add or switch patterns, record automation on macro controls or FX, and change your drum pattern lengths to switch it up as you go, even while playing.
Load in samples
You have up to 60 seconds of sample time, shared across 64 slots. Then, Sample Flip lets you select a different sample for each step in a sequence across all four of Circuit's drum tracks. You could have both a kick and a snare on Drum 1, for example, leaving you three more sequencer lines for whatever sample insanity you can think of.
Connect with anything
Send MIDI to other synths, or synchronise and jam with other drum machines, grooveboxes or your DAW. 3.5mm MIDI jacks make daisy–chaining Circuits together easy - including Circuit Mono Station which opens up a whole other world of analogue filth. Connect to your computer too and sync with your DAW, access the synth editor, and keep your firmware up-to-date for the latest round of new features.
Helping you find your new sound
Music making is all about the journey, and we're always looking for new ways to inspire you along the way. That's why we've created the Sound Collective. Receive free versions of the most innovative software instruments and creative FX from developers we admire, as well as discounts to help you make the most of third-party software, exclusive to Novation customers. All you have to do is register your Novation gear, and one offer will be featured in your Novation account every couple of months.
All you need to make music - anywhere
Compact - and with a built-in speaker - you can produce whole tracks anywhere with Circuit and six AA batteries. In the studio it will work alongside your standalone synth gear and run in sync with your music software too. Circuit is all you need to inspire, create and play new tunes.
A powerful electronic music workstation with Nova-series synth engines and sequencing
Comprehensive RGB-backlit 4 x 8 pad matrix makes playing and sequencing intuitive
2-part Nova-series analog-modeled synthesizer with 64 presets delivers amazing sound
4-part rhythm machine lets you lay down beats and create compelling drum sequences
Load up to 60 seconds of your own samples via a browser-based editor/librarian
Perform live with or without real-time quantization or step sequence on a detailed grid layout
Lock your synths to a specific key to quickly create music without worrying about wrong notes
Store your creations in 32 slots for performance and easy recall
Combine a complete library of Sessions, Samples, and Patches into a single file with Circuit Packs
Create intricate polyrhythms and pattern variations by setting the length of drum patterns 1/2 and 3/4 independently
Switch between patterns instantly to generate glitchy drum fills
Change Session colors directly from the Circuit hardware when saving
Gain increased control with separate transmit and receive settings for the Circuit's MIDI clock
15 "Starting Point" Sessions help you get started quickly
Pattern Chain Sequence function allows up to 32 patterns and 16 chains of patterns to be selected in any order
Created tied and drone notes using the sequencer's tie-forward setting
Take your music off the grid using Synth Micro-nudge, allowing for more complex rhythmic creation
Battery power and built-in speaker let you create and perform music anywhere
USB and MIDI connections provide compatibility with the rest of your electronic music gear
Components expand your functionality with powerful web-based tools
Includes Ableton Live Lite and 1GB of Loopmasters sounds and samples
Type:

Performance Pad Synth Station

Internal Sound Engine:

2-part Nova-heritage analogue-modelled synth

Pads:

32 x RGB Velocity-sensitive Pads

Manufacturer Presets:

64 synth patches, 64 drum sounds

Sequencer:

128-step synth/drum patterns

Effects Types:

Reverb, Delay

Analog Outputs:

2 x 1/4" (L/R)

Headphones:

1 x 1/8"

MIDI I/O:

In/Out, 2 x MIDI break-out cables: 1/8" to 5-pin DIN socket

USB:

1 x USB Type B

Software:

Ableton Live Lite

Power Supply:

12 DC power supply (included) / 6 x AA batteries

Height:

1.37"

Width:

9.4"

Depth:

7.8"

Manufacturer Part Number:

AMS-CIRCUIT
Hãy đặt câu hỏi liên quan đến sản phẩm...