Còn hàng
Vận chuyển hôm nay nếu đặt hàng trong 13 giờ và 18 phút!
Auto-Tune Pro is the most complete and advanced edition of Auto-Tune. It includes Auto Mode, for real-time correction and effects, Graph Mode, for detailed pitch and time editing, and the Auto-Key plug-in for automatic key and scale detection.
Industry-standard Pitch and Time Correction
With Auto-Tune Pro, Antares' industry-standard pitch and time correction plug-in has received a serious upgrade. For starters, the plug-in has gotten a facelift. Whether you're diving into Auto-Tune's deep features or just scratching the surface, this streamlined interface makes it incredibly easy to use. Auto-Key is a huge time-saver, automatically detecting the key and scale of your project. If you're feeling nostalgic, you'll love Auto-Tune Pro's Classic Mode — it gives you the "Auto-Tune 5 sound" used on numerous iconic pop recordings. Enjoy close integration with your DAW, thanks to Audio Random Access support. Beyond that, you can control Auto-Tune Pro's key parameters in real-time with your MIDI controller.
Streamlined user interface yields an incredibly efficient workflow
Thanks to its streamlined user interface, Auto-Tune Pro is incredibly easy to use. Auto Mode includes two screen views: Basic View and Advanced View. Basic View gives you quick access to Auto Mode's core functions. Advanced View unlocks powerful MIDI, scale editing, and vibrato features. At Sweetwater, we especially appreciate Graph Mode's beefed-up interface — it's been redesigned from the ground up. The Main Graph is larger and there's greater zoom resolution. Beyond that, you get user-assignable zoom presets and reconfigured controls that are sure to increase your efficiency.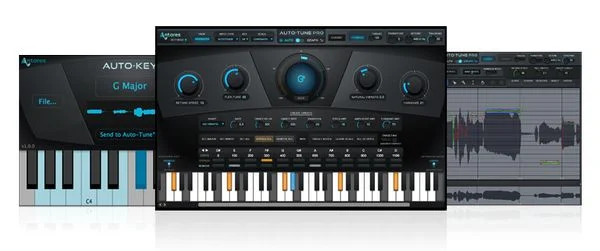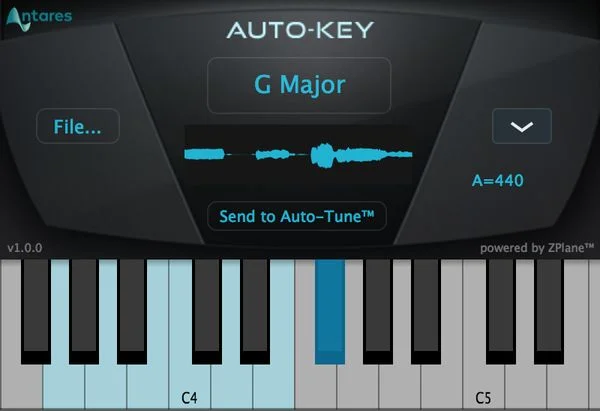 Detect the key and scale of your music with Auto-Key
One of the best time-saving features of Auto-Tune Pro is Auto-Key. This plug-in automatically detects the key and scale of your music. It then sends that information to one or more instances of Auto-Tune Pro. Even if you already know the key and scale of your project, Auto-Key still makes simultaneously setting the Key and Scale parameters of multiple instances of Auto-Tune a breeze.
MIDI Parameter Control allows real-time control via a MIDI controller
By virtue of its MIDI Parameter Control functionality, you can play Auto-Tune Pro like an electronic instrument. Simply grab your favorite MIDI controller and take command of Retune Speed, Flex-Tune, Humanize, Throat Length, and Vibrato in real-time.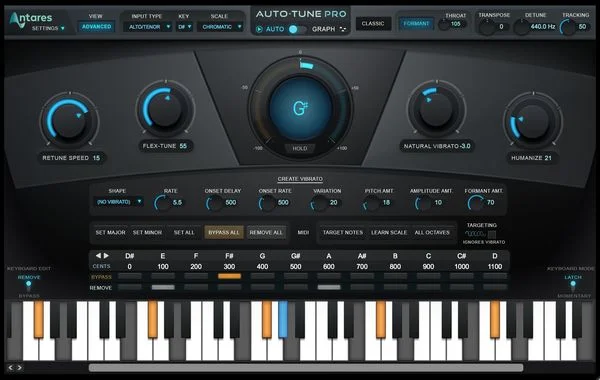 "The high quality real-time tuning functions of Auto­-Tune allow me to create amazing vocal stacks at breakneck speed. It's also a great creative tool to play with formants and make new crazy sounds. It's on every writing, production, and mixing session I'm involved in." — Fabrice "Fab" Dupont (Queen Latifah, Jennifer Lopez, David Crosby, Isaac Hayes, Andre 3000, Snarky Puppy, Shakira)
Antares Auto-Tune Pro Features:
NEW Streamlined user interface offers ease of use and an efficient workflow
NEW Auto-Key automatically detects the key and scale of your music
NEW Classic Mode provides access to the "Auto-Tune 5 sound"
NEW ARA (Audio Random Access) allows for closer integration and exchange of information between the plug-in and your DAW
NEW Control key parameters in real-time with a MIDI controller
Industry-standard pitch and time correction
Flex-Tune and Humanize technologies tune vocals without sacrificing their natural expressive gestures
Create a dramatic "Auto-Tune Effect" by cranking the Retune Speed
Time Correction features touch up timing errors and allow you to rework a track's timing without re-recording it
Perform in real-time without any distracting delay using Low Latency Mode
<iframe width="100%" height="450" scrolling="no" frameborder="no" allow="autoplay" src="https://w.soundcloud.com/player/?url=https%3A//api.soundcloud.com/playlists/805575327&color=%23ff5500&auto_play=false&hide_related=false&show_comments=true&show_user=true&show_reposts=false&show_teaser=true"></iframe>
Tech Specs
Software Type:

Pitch Processor

Platform:

Mac, PC

Upgrade/Full:

Full

Download/Boxed:

Download

Bit Depth:

64-bit

Format:

AAX Native, VST3, AU

Authorization Type:

WIBU CodeMeter (download)

Hardware Requirements - Mac:

Intel Multi-core Processor, 4GB RAM or more recommended

Hardware Requirements - PC:

Multi-core Processor, 4GB RAM or more recommended

OS Requirements - Mac:

OS X 10.11 or later

OS Requirements - PC:

Windows 8.1 or later

Manufacturer Part Number:

AutoTunePro