Focusrite Scarlett 2i4 (2nd Gen)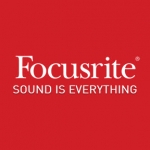 Số lượng hạn chế
Vận chuyển ngày mai nếu đặt hàng trong 1 ngày, 10 giờ và 59 phút!
Focusrite's second-generation Scarlett 2i4 is a portable audio interface designed specifically for use in a computer environment.
Thông tin thêm

| | |
| --- | --- |
| Ngõ vào Analog | XLR, 1/4" |
| Ngõ ra Analog | 1/4", RCA |
| Độ Phân Giải A/D | 24-bit/192kHz |
| Kết Nối Với Máy Tính | USB |
| Vị Trí Lắp Đặt | Để Bàn |
| Ngõ Vào/Ra MIDI | Vào, Ra |
| Số Lượng Pre | 2 |
| Ngõ Vào/Ra Đồng Thời | 2 x 4 |
We found other products you might like!

Our Most Versatile USB-Powered Audio Interface
Two natural-sounding Scarlett mic preamps with plenty of even gain
Two instrument inputs, designed for seriously hot pickups
Class-leading conversion and sample rates up to 192kHz/24-bit
Cue mix switching, with four analogue outputs
NEED A CUE MIX FOR PERFORMING OR RECORDING?
Our compact and flexible 2-in, 4-out USB audio interface makes it easy to perform and record studio-quality audio against a cue mix. Take it anywhere, connect and power by USB and get two natural-sounding Scarlett mic preamps, super-low latency, MIDI I/O, four analogue outputs and the same class-leading sound quality and digital conversion as the rest of the Scarlett range.
RECORDING MADE EASY
Record anything you want using two combination inputs, with natural-sounding Scarlett mic preamps, 48V phantom power, line-level inputs and instrument inputs that can handle even the loudest guitar pickups. Setting the perfect level couldn't be easier, thanks to our signature Gain Halos around the gain knobs.
THE INTERFACE COMPANY
Converting your performance into digital audio and back again is the most important part of the recording process. We've been making class-leading converters for over 20 years, and because of this Scarlett is the bestselling USB audio interface range in the world from the number one interface company.
Two natural-sounding Scarlett mic preamps with plenty of even gain
Two newly-designed instrument input, designed for seriously hot pick-ups
Class-leading conversion and sample rates up to 192kHz / 24 bit
Super-low latency* for using your plug-ins in real time without the need for DSP
Cue mix switching, with four analogue outputs
One headphones output with gain control
MIDI I/O connectivity, ideal for sending/receiving MIDI notes from a Stage Piano
Compact and tough enough to take anywhere
Powered by USB so you don't need to carry a power cable
Includes Pro Tools | First - Focusrite Creative Pack and Ableton Live Lite
All the additional software and loops you need to start recording
System Requirements:
Mac OS X Yosemite, El Capitan
Windows 8.1, Windows 7, Windows 10
Supported Operating Systems
Mac OSX 10.10 Yosemite or 10.11 El Capitan
Windows 7 (64-bit), Windows 8.1, Windows 10


Supported Sample Rates
44.1 kHz, 48 kHz, 88.2 kHz, 96 kHz, 176.4 kHz, 192 kHz


Microphone Inputs
| | |
| --- | --- |
| Frequency Response | 20 Hz - 20 kHz ± 0.1dB |
| Dynamic Range | 106 dB (A-Weighted) |
| THD+N | <0.002% (minimum gain, -1dBFS input with 22Hz/22kHz bandpass filter) |
| Noise EIN | < -126 dB (A-Weighted) |
| Maximum input level | +4 dBu |
| Gain Range | 50 dB |
Line Inputs
| | |
| --- | --- |
| Frequency Response | 20 Hz - 20 kHz ± 0.1dB |
| Dynamic Range | 106 dB (A-Weighted) |
| THD+N | <0.003% (minimum gain, -1dBFS input with 22Hz/22kHz bandpass filter) |
| Maximum input level | +22 dBu |
| Gain Range | 50 dB |
Instrument Inputs
| | |
| --- | --- |
| Frequency Response | 20 Hz - 20 kHz ± 0.1dB |
| Dynamic Range | 106 dB (A-Weighted) |
| THD+N | <0.02% (minimum gain, -1dBFS input with 22Hz/22kHz bandpass filter) |
| Maximum input level | +13 dBu |
| Gain Range | 50 dB |
Line & Monitor Outputs
| | |
| --- | --- |
| Dynamic Range Outputs (1-2) | 106 dB (A-Weighted) |
| Dynamic Range Outputs (3-4) | 103 dB (A-Weighted) |
| Maximum Output Level (0 dBFS) Balanced Line/TRS Outputs | +10 dBu |
| Maximum Output Level (0 dBFS) Unbalanced Line/RCA Outputs (1-4) | +5.5 dBu |
| THD+N Outputs (1-2) | <0.001% (minimum gain, -1dBFS input with 22Hz/22kHz bandpass filter) |
| THD+N Outputs (3-4) | <0.008% (minimum gain, -1dBFS input with 22Hz/22kHz bandpass filter) |
Headphone Outputs
| | |
| --- | --- |
| Dynamic Range | 107 dB (A-Weighted) |
| THD+N | <0.001% (minimum gain, -1dBFS input with 22Hz/22kHz bandpass filter) |
| Maximum Output Level | > +7.8dBu |