OVERVIEW
World-class Interface with Hardware-based FPGA FX
Designed as a comprehensive interface for modern studios and live rigs, the Antelope Audio Goliath is packed with cutting-edge features and extensive connectivity. Equipped with an onboard Field Programmable Gate Array (FPGA) latency-free modeling engine powering an arsenal of effects, including EQ, compression, amp simulations, and more, the Goliath Thunderbolt/USB interface is an amazingly complete audio device. Featuring 16 mic preamps and 36 x 32 analog I/O, Goliath offers the flexibility of 64 channels via Thunderbolt, multiple digital formats (AES, 2 x MADI, S/PDIF, and ADAT), four line/instrument inputs, two headphone outputs, two Reamp outs, and stereo monitor outputs including a mastering-grade DAC with 129dB dynamic range.
Modeled Vintage EQs, Compressors, and More On-board
Hardware-based modeling of classic gear
Antelope Audio's FPGA technology means Goliath provides near-zero latency performance and also powers the FPGA effects suite with digital re-creations of beloved classic hardware processors. FPGA enables effects to respond more like hardware compared with many other plug-ins thanks to this powerful processing platform.
Authentic vintage models
Antelope's included FPGA software suite delivers spot-on emulations of vintage processors allowing you to sweeten tracks with Pultec EQ emulations, make vocals shine with the 1073 EQ model designed in partnership with BAE, add life to drums and guitars with the VEQ-55A plug-in, and utilize vintage and contemporary guitar amp and cabinet simulations to create larger-than-life tones. All of these effects processors can be instantiated on any input, output, or DAW track, making Goliath a powerful virtual effects rack.
Antelope's world-class reverb
AuraVerb is an original reverb processor designed by Antelope's top programmers and is included as part of the Antelope Audio FPGA suite. Because it runs in real time on Antelope's Modeling Engine, you can use it for tracking as well as mixdown with virtually no latency.
More models are on the way
The EQs, compressors, and effects in the Antelope FPGA suite are just the beginning. Antelope's engineers are continuously working on creating new models of classic vintage gear, and you'll be able to add them to your software suite as they become available.
Mics Modeled for Cabinets
California121 Ribbon
Austria Gold 414
American57
German FET87
Modeled Guitar Amps
Darkface 65 US
Top30 UK
Modern US
Plexi 59 UK
Rock 22.10 UK
Rock 75 UK
Modeled Cabinets
Darkface 65 2x12
Top30 2x12
Modern 4x12
OB Green 2x12
Vintage 4x12
Green 4x12
Vintage EQ's
VEQ-1A
VEQ-5A
BAE 1073
VEQ-55A
Modern AFX
Antelope EQ
Antelope Compressor
Comprehensive Connectivity
Extensive I/O
With an incredibly wide range of input and output options, the Antelope Audio Goliath is ready for most any recording and live sound applications. With 36 analog inputs and 32 analog outputs, including 16 great-sounding Class A mic preamps, the Goliath can handle your most demanding projects. Surround sound can be monitored with volume control via outputs 1-8 on the rear panel D-sub connector.
Thunderbolt, USB, MADI, and more
The Antelope Audio Goliath utilizes Thunderbolt or USB to connect with Mac and Windows computers. You have a ton of flexibility to connect with multiple digital formats, including MADI, ADAT, AES, and S/PDIF.
Acclaimed clocking and conversion technology
Antelope's 64-bit Acoustically Focused Clocking (AFC) jitter-management technology, used in top mastering facilities worldwide, delivers some of the most analog-sounding audio conversion we've heard here at Sweetwater. Expect vast stereo imaging, wide and balanced frequency response, and an uncanny sense of depth and dimension.
Everything You Need for an Efficient Workflow
Ultra-low latency
Thunderbolt's unmatched round-trip speed reduces Goliath's latency to imperceptible amounts, even when using Antelope's advanced effects processing on multiple inputs and outputs. The result is a near-analog recording experience for both the engineer and the artist.
Advanced remote apps
Apps for Mac, Windows, iOS, and Android control Antelope Audio interfaces remotely from any device on your network. You'll have full control over Goliath's audio routing, built-in FPGA processing, input/output metering, and more. Plus, you can run the app simultaneously on multiple devices/operating systems (PC, Mac, iOS, Android) and have them all control one interface at the same time.
Touchscreen display plus dedicated controls
Goliath's color touchscreen display is pleasingly responsive and provides visual feedback in a clear and concise manner. And because Antelope Audio knows that some things are still best controlled by real knobs and switches, Goliath features dedicated knobs and switches for input gain levels, monitor muting, and more.
Ready for Guitars, Drums and Practically Any Other Application
Capture epic guitar tones, direct
Goliath's clean front end with zero-latency monitoring and Overloud amp simulations gives guitar and bass players access to great recorded tones without requiring an amp and mic. If you decide later that you want to mic up a real amplifier, Goliath's two transformer-based Reamp outputs make it easy to run direct tracks from your DAW to a guitar amp without requiring additional reamping devices.
Enough preamps to track a full band
A full console's worth of 16 mic preamps and other inputs equip Goliath for real-world recording applications. It's the ideal interface for tracking high channel counts without requiring multiple racks full of preamps and processors.
Impressively rugged build quality
As with all Antelope gear, the company's usual tour-grade build quality is evident throughout Goliath's rackmount chassis.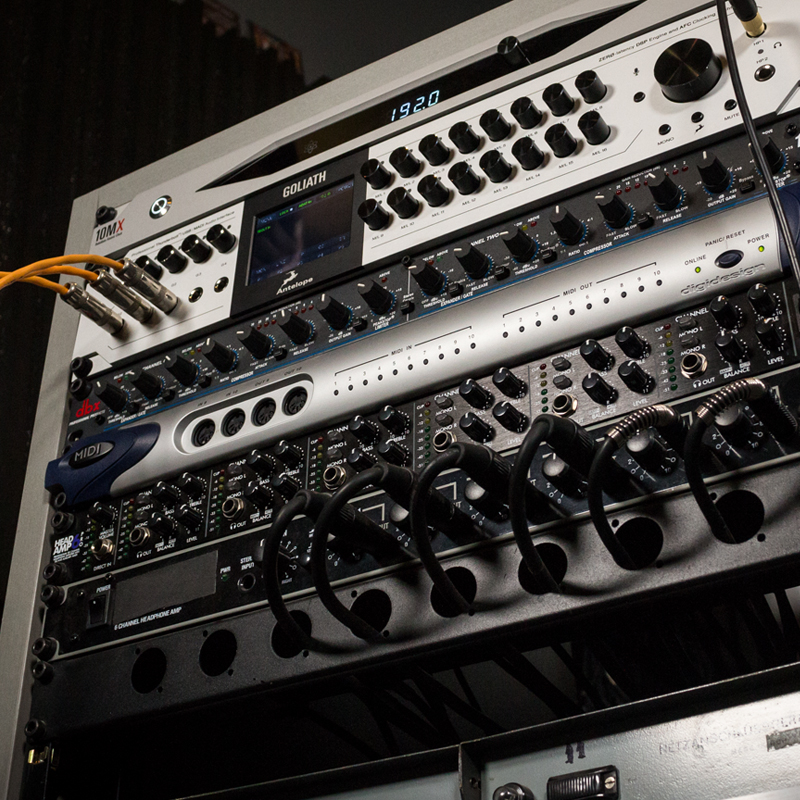 Features & Benefits


​A clean front end with zero-latency monitoring and Overloud amp modeling give guitar and bass players access to great recorded tones without the amp and the mic.

A full console's worth of mic preamps and inputs equip Antelope Audio consoles for real-world recording applications: drums, full bands/orchestras, etc.
Thunderbolt's unmatched round-trip speed reduces latency to imperceptible amounts. The result is a near-analog recording experience for both the producer and the artist.

Apps for Mac, Windows, iOS, and Android control Antelope Audio interfaces remotely from any device on your network.

Any product worthy of the Antelope Audio name must have exceptional clocking. Extremely low jitter gives this unit Antelope's vivid depth and three-dimensionality.

Realistic Vintage Effects
Hardware-based Pultec-style EQ and AuraVerb reverb are just some of the effects that come standard in Antelope's included FPGA suite.
36 analog inputs; 32 analog outputs
FPGA latency-free modeling engine powers vintage-modeled EQs, compressors, reverbs, and more
16 mic preamps
64-bit Acoustically Focused Clocking
Cutting-edge monitor output DACs with 129dB dynamic range
Touchscreen display
Talkback
16 AES ins/outs
2 MADI ins/outs
2 ADAT ins/outs
S/PDIF I/O
2 headphone outputs
2 Reamp outputs
Thunderbolt/USB connectivity
Remote apps for Mac and PC
Tech Specs
| | |
| --- | --- |
| Computer Connectivity | 1 x Thunderbolt, 1 x USB Type B |
| Form Factor | Rackmount |
| Simultaneous I/O | 36 x 32 Analog |
| A/D Resolution | Up to 192kHz |
| Analog Inputs | 16 x XLR-1/4" combo, 2 x DB-25, 4 x 1/4" (instrument DI) |
| Analog Outputs | 3 x DB-25, 2 x 1/4" (monitor), 2 x 1/4" (inserts), 2 x 1/4" (reamp out) |
| Digital Inputs | 1 x Coax (S/PDIF), 2 x Toslink (ADAT), 2 x Optical (MADI), 2 x DB-25 (AES/EBU) |
| Digital Outputs | 1 x Coax (S/PDIF), 2 x Toslink (ADAT), 2 x Optical (MADI), 2 x DB-25 (AES/EBU) |
| Headphones | 2 x 1/4" |
| Number of Preamps | 16 |
| Phantom Power | Yes |
| Clock I/O | 1 x word clock in, 1 x atomic clock in, 2 x word clock out |
| OS Requirements - Mac | OS X 10.9 or later |
| OS Requirements - PC | Windows 7 or later |
| Depth | 11" |
| Width | 19" |
| Height | 3.2" |
| Weight | 15 lbs. |
| Manufacturer Part Number | Goliath |